End-to-end visibility. Online tracking. Dock to door.
Whether it's home or business, local or nationwide, you'll find an expert delivery solution suited for you with
Valley Final Mile.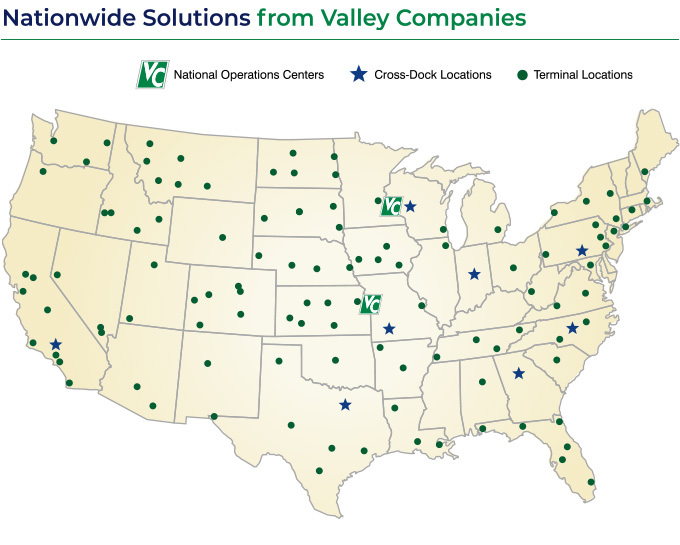 Residential Delivery:
Speed and performance
Superior customer service
Flexible delivery times, advanced tracking, and a coast-to-coast network of 190 delivery terminals
Business Delivery:
87 years of LTL expertise
Unique delivery solutions for your unique business deliveries
Flexible delivery times, advanced tracking, and a coast-to-coast network
of 190 delivery terminals
Big and Bulky
Valley Final Mile focuses on four delivery segments, and we specialize in those "big & bulky" shipments that others can't handle.
Outdoor & Indoor Living: swing sets, pergolas, sectional couches, gazebos, cabanas, patio accents, and more
Sporting & Recreational Equipment: kayaks, basketball goals and hoops, soccer goals, exercise equipment, and more
Manufacturing: dining room tables, patio furniture, school furnishings, dental equipment, veterinary equipment, and more
Furnishings: think sofas, chairs, tables, ready-to-assemble big box store furniture, and more
Three Levels of Service:
Basic: Includes curbside, garage or inside delivery on a skid
Standard: Inside delivery to the room of choice, includes de-skidding
Premium: Inside delivery to room of choice, unpacking, minor assembly (no tools or Flatpack/KD furniture), and debris removal
"I generally don't take the time to do reviews unless it was either incredibly flawed or the experience was outstanding. I'm happy to report that the entire delivery process was perfect. The communication was excellent and the delivery team was truly outstanding."
"Delivery went very well with extremely helpful delivery team!"
"Thank you for making our transition to Valley companies a seamless one! I've been shipping shower doors for over 25 years and when the freight industry started to affect my business and couldn't deliver, you were there."
What is Valley Final Mile? Our Vice President of Strategic Initiatives, Dan Knudtson, tells you all about it in this article.